This week, the episode you are about to hear was actually recorded and edited last week, since I was out of town this weekend. But since my show isn't exactly current events or news, I don't think it will make much of a difference. In fact, you probably wouldn't even have noticed if I hadn't told you so. Oh well.
This week I am reading The Amazing Mages, a brand spanking-fresh new story so recently published that, as of this post, it has not yet been accepted into the iTunes iBookstore. That should change in the coming days, however. Emphasis on should. As for what I was doing this weekend, keep an eye on GoldeenOgawa.com for a full report. (Spoiler: it involves Las Vegas.)
Until then, sit back, relax, and enjoy the show.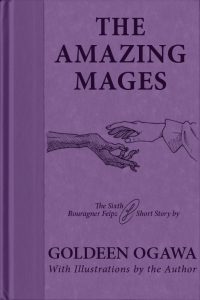 Cover art by Goldeen Ogawa.
A quick programming note: next Tuesday, March 6th, there will be no new Radio Grimbald. I will be hard at work getting the second half of Season 2 ready to go, and new shows will resume the following week. Thanks!
Podcast: Play in new window | Download
Tags: a study of magic, bouragner felpz, radio grimbald, season 2, the amazing mages