Happy holidays, it's the season finale of Radio Grimbald! This week I read The Piper in the Dell, the fifth and final story in my collection Fiddler's Dream and Other Stories. Also making guest appearances on the podcast for the very first time: the Dog; and my brother, who is kind enough to grant me an interview on the topic of his amazing musical powers. This episode features, as a special, musical extra, the F.E.X. Main Theme, composed by Evan Ogawa.
I hope you all have a very Merry Christmas, Happy Chanukah, Happy Kwanza, Happy Solstice, etc. etc. and I will see you early in the new year with Season 2 of Radio Grimbald. Season 2 will feature stories from the first volume of the collected adventures of Bouragner Felpz, starting with The Purple Gentleman on Tuesday, January 17th.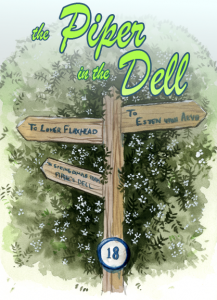 Cover art by Goldeen Ogawa.
Podcast: Play in new window | Download