Well well well, here we are again (it's always such a pleasure!) and I've got a brand new story for you. Well, not brand new. It's been available as an eBook for at least two weeks now. Heh.
This week on Radio Grimbald I'm reading Snakes and Ladders, the fourth installment in The Adventures of Bouragner Felpz. As always, you can purchase online at Amazon, iTunes and B&N—every eBook purchase goes toward supporting this podcast, remember! Look at me, ignoring that it's Valentine's Day, I hope you enjoy this episode!
And, as I mention at the end, I am now on Goodreads, so feel free to say hello if you're on there.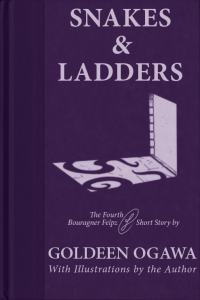 Cover art by Goldeen Ogawa.
Podcast: Play in new window | Download